Katalyst President Sean Rugless served as a judge for first-ever WARC Awards for Advertising Effectiveness. Delivered in association with LIONS, the awards are built to benchmark on the consistent global language of the Effectiveness Code and judged using the Creative Effectiveness Ladder and B2B Effectiveness Ladder.
This new competition aims to shine a light on the most inspiring and effective work from the North American region to help drive the industry forward. Katalyst was one of seven judges chaired by Cheryl Guerin, EVP, Global Brand Strategy & Innovation of Mastercard, and Pam Forbus, SVP, Chief Marketing Officer of Pernod Ricard North America.
WARC Awards for Effectiveness, North America Edition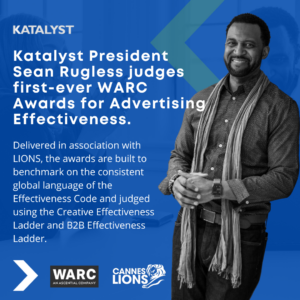 Follow us on social media!
IG: @katalyst_group
FB: Katalyst Group
Twitter: @katalyst_group
LinkedIn: The Katalyst Group